Simple Accurate Fast
Public View is a performance monitoring, benchmarking and now reporting service for NHS teams.
Public View automatically collects all published NHS data into a simple comparison dashboard.
How It Works
1
Public View collates information from hundreds of data sources and enables comparison in an intuitive platform
2
Public View subscribers can instantly identify areas that are high performing, progressing well, or a cause for concern
3
Review peers, produce board reports and track progress and deliver change
Features
All the features for your team to monitor and improve performance
At a glance scorecards
View multiple prebuilt and custom scorecards
Over 1,200 indicators instantly accessible and logically categorised into overall, divisional and team level scorecards enabling both broad and detailed view.
Easy to use charts
Ranking, Trend, Change and SPC
Intuitive charts enable clear focus on precisely what you need to know, allowing comparison of performance across all NHS organisations.
Full mobile app support
Access anywhere, anytime
Public View works seamlessly on any device including phone, tabled and desktop with nofication when new data is available.

4 peer group channels
Simultaneously compared with 4 peer groups
Set up multiple peer groups for easy comparison, or use pre-set comparisons such as intra-ICS or CQC levels.
Headlines view
Instantly see what you need to know
Look only at the best and worst performing metrics, or those failing to report, to quickly view outliers and potential data quality issues.

Share custom views
Share custom built scorecards and targets
Create up to 30 custom scorecards for your divisions, specialties or committies, set local targets including recovery trajectories and share with colleagues.
Reporting

Reporting pack
Export insights to PowerPoint
Create multiple prebuilt reports in your organisations custom style to fast-track creation and updating of performance presentations.

Add commentary
Provide narritave alongside charts
Use the private commentary feature to add context or record actions for each indicator.

Add local data
For a more up to date view of performance
Safely upload local data, which is seamlessly integrated with national data to provide the latest information which is only viewable by your organisation.
Pricing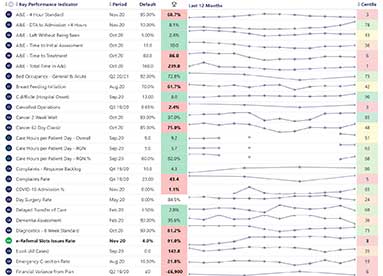 Provider

For benchmarking provider perfomance and quality monitoring


£30,000per year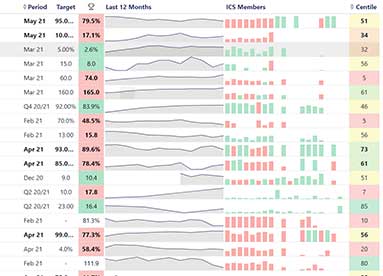 ICB

For comparing system impact and assurance of place and provider perfomance


£60,000per year
Report Pack

Automated creation and updating of PowerPoint presentations in your organisations style


£15,000per year

The UK's top 100 Hospitals ranked with Public View's Hospital Combined Performance Score (HCPS).
HCPS is constructed from nationally reported performance indicators combined using an adaption of the formula used for the decathlon in athletics.